About Glen Browning the artist/instructor
A native of British Columbia, Canada, Glen Browning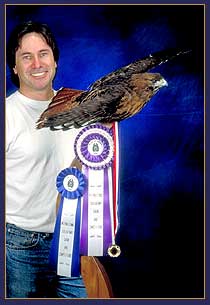 has had a lifelong interest in birds. He has been active as a falconer with his Harris hawk for many years.

Although he began practicing general taxidermy at the age of fifteen, he gradually concentrated more and more on his area of special interest until his practice became devoted to birds only.
His dedication to accuracy of detail, enhanced by his other lifelong passion, photography, soon enabled Glen to excel in his chosen field, and he has subsequently won numerous top awards in national and international competition.

He has ready access to several local private avicultural and public zoological bird collections featuring numerous species ranging from waterfowl and upland game birds to parrots, hornbills, and other exotics.

His observations and close-up photography of living birds have allowed him to acquire an intimate and ever-increasing knowledge of avian anatomy, morphology, natural history, and behavior that has proved an indispensable asset in presenting mounted specimens in the authentic and lifelike manner for which his work is internationally known, as well as in his capacity as an instructor of avian taxidermy.
Glen now spends his time mounting birds, teaching, judging shows as well as other pursuits related to this art.

Glen has served as a seminarian at the World and European championships.

He has co-authored an instructional guide on bird mounting, and is currently compiling a series of anatomical drawings and photographic references representing the most popular bird families.

In addition, Glen has assembled perhaps the most detailed private collection of bird reference photos extant for his own use and the use of his students.